Exactly one year ago today I was alone on a one-way flight to Vietnam, forcing myself to eat a part of the weird sushi and raw fish lunch the flight attendants had served lest I pass out from hunger (I hate fish) while pretending not to recognize that I was the ONLY woman on our plane of at least 100 passengers. Knowing who and what I know now, it's difficult to remember there was a time when the idea of traveling without known friends, accommodation, booked excursions scared me. And boy, did it scare me.
But, I traveled for two months through Vietnam, Cambodia, Thailand, and Singapore. And now I'm back to celebrate it by outlining the trip with a series of photos. If you're thinking, "Wait, Sarah, didn't you already blog about your backpacking trip?" The answer is, kind of, yes, but I only made it through Vietnam before having to stop due to the fact that my brain and body decided to institute a coup against me. 
Let's just jump into it, shall we?
Halong Bay Boat Trip. Kayaking, good food, lots of beer. Athleticism and ability to control kayak: minimal. Shotgunning abilities for those of the female persuasion: maximum. Drinking games were played, skinny dipping ensued, and tampons were put in mouths. Yes, you read that correctly.
Welcome to the jungle. The first part of my tour through Vietnam was in the Cuc Phuong National Park, home to cobras, spiders the size of your feet, and other creepy crawlies. Also my first day without any AC or a fan. Hikes were had, vodka was drunk until the fear of man-eating spiders was no longer present, faces were split open (Did you read the part about vodka? Apparently alcohol + concrete steps don't mix), and sunburns got real on paddleboats to temples only accessible by caves at low tide. Oh yeah, and our 4'10" tour guide had bigger feet than me.
Local Vietnamese sleeper bus because our pre-arranged bus was overbooked and we got dumped. I slept like a baby for the first few hours and then not at all for the latter half. Probably because once you wake up and notice the Vietnamese guy on the floor below you is staring up your shorts that flopped open while sleeping, it's kind of hard to get comfortable.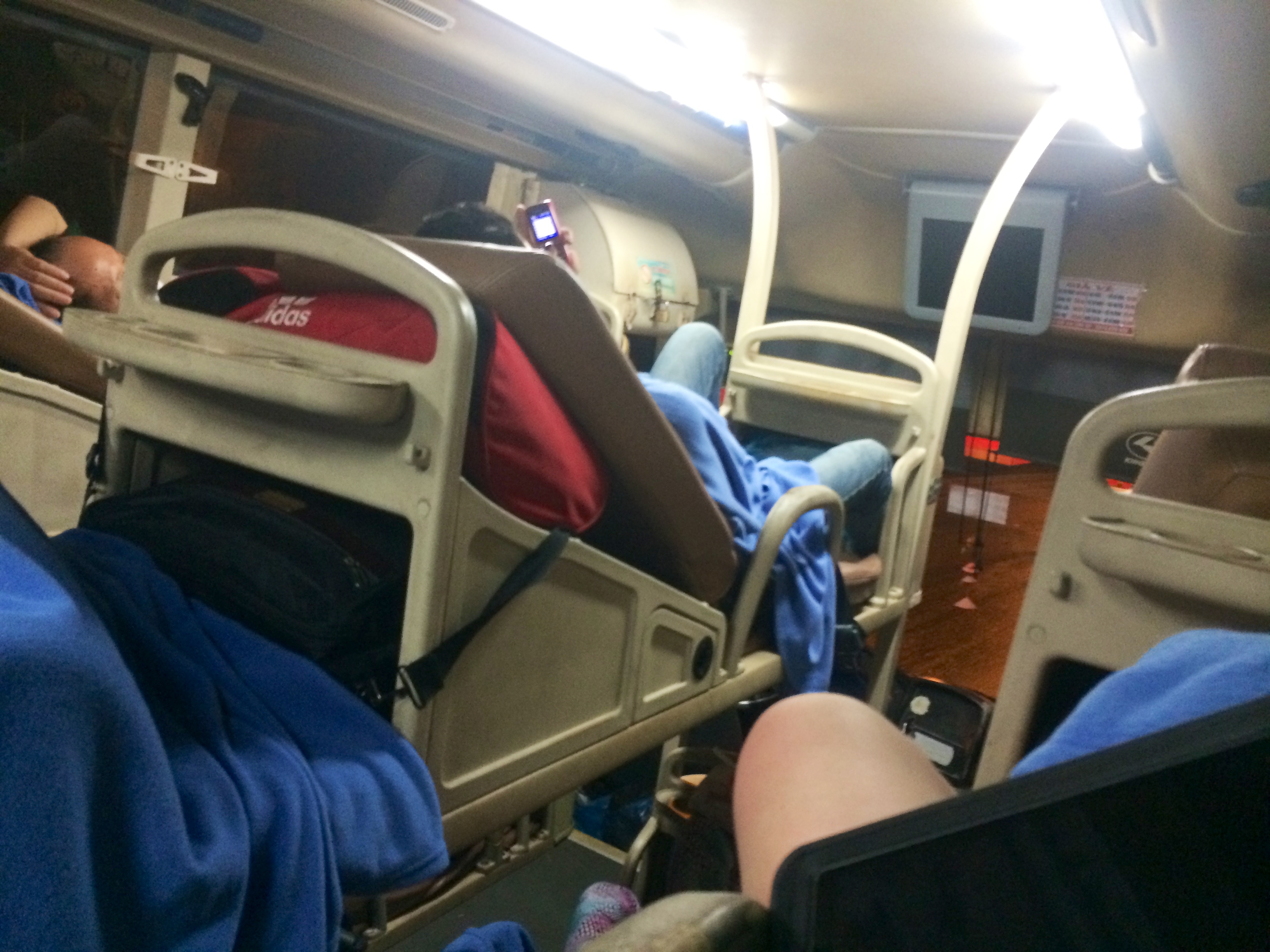 Demilitarized Zone where I got to blow up old remnants from the Vietnam War. They even let me take home some shrapnel for my grandpa, who fought in Vietnam in the same areas I was touring. Then tours of the coastal cities' tunnels, where villages lived to survive bombs. Jimbo still being injured because apparently backpacking while drinking heavily doesn't help with healing time of wounds.  We explored caves and swam in natural springs with a terrifyingly strong current. Walked miles upon miles to get to the Pub with Cold Beer and hang out with some local farmers. All in all, a hot, sweaty, successful few days.
The beach we went to in Hue was absolutely incredible. No one was there, we had a private bar, and not a cloud in the sky. A few major events took place here: I really got to meet The Boys, was introduced to Spongebob, and demonstrated my yogi skills.
I first heard of the Hai Van Pass ride on an episode of No Reservations by Anthony Bourdain. He said it was the most incredible thing he'd ever done, with some of the most beautiful views he'd ever seen. He wasn't lying. Riding on the back of a motorbike driven by a guy I hardly knew and who'd never driven a motorbike while also on the edge of a mountain was oddly exhilarating. I do have a question for you all though: how much does riding a motorbike for 8 straight hours hurt your hoo ha? Answer: so much it stops hurting because it's gone numb.
We officially entered Hoi An, one of my favorite parts of Vietnam. A chill place but with plenty to do. Here, we met Izzie, who eventually became the fifth member of our family by smuggling herself into various parts of Vietnam without any possessions. We had custom clothes made at a tailor shop, enjoyed the hotel pool, ate an amazing meal that I'll never forget. I tried my first Mars Bar. We discovered Why Not Bar, which we stupidly returned to night after night despite always losing our shit each time we were there (what can you expect from a place that basically mixes koolaid with rubbing alcohol and calls it a cocktail?) Hoi An is where I eventually cornered The Boys into taking me to Cambodia with them. What? You've never trapped someone into being your friend? I recommend it, it's highly effective. Oh, and I became Gary.
Then we hit Nha Trang and Da Lat, filled with sketchy ass waterparks (complete with knockoff Hollywood signs) that nearly cost me my life, ANOTHER Why Not Bar but this time with a huge barrel of pure alcohol (it didn't end well), elephant rides, and all sorts of other goodies. For more information on how we almost died while riding rides in Vinpearl, look no further.
Lastly, we hit up Saigon/Ho Chi Minh City. We met up with old friends from back in Northern Vietnam, visited the American War Museum (which, just to note, was incredibly disturbing and alarming, especially as an American…it was very propaganda-y), visited the same bar/club each night with basically the same outcome (piss drunk), and managed to find a hotel that would accomodate all five of us in one room – the "family" room they called it, and they couldn't have been more accurate. Oh, and this is also the city where Andrew abandoned me and left me to fend off taxi drivers on my own, but you should ask him to tell the story because I hear he really likes to be reminded of it!
Off we go to Cambodia! After a crazy long bus ride, we were in Phnom Penh. We wasted no time and clearly no emotion by going straight to the Killing Fields of the Cambodian genocide under the Khmer Rouge. It was eye-opening. Exhausted from shitty hostels that squeezed us all into a room the size of a closet, we went to a five star hotel in the city central for a whopping $30/night. Markets were visited and crazy ass drinks made up of tequila + absinthe + jager were had, and just like that we were already on to the next spot.
Siem Reap was a different vibe than Phnom Penh – bigger and busier. We stayed at a great hostel right near the bars, perfect for getting shmammered each night. Temples were visited (including Angkor Wat – challo bucket list!), I learned to balance a coconut on my head after many many mishaps, more elephants/monkeys sightings and tears ensued, I finally learned to haggle with the market betches who always thought their stuff was somehow special and unique despite literally the next stall over having the EXACT SAME THING, and we all purchased matching USA jerseys for the World Cup games. Except the boys looked normal in theirs, and I looked like the manliest, least attractive version of myself in mine. Ah well, you win some, you lose some, eh? In Siem Reap everyone learned that you don't mess around with Sarah and redbull vodka buckets, because I WILL drink you under the table. We also taught English to the most brilliant, polite, and well-mannered underprivileged Cambodian children (highlight of my trip) and almost fought other little kids for pickpocketing us on our drunk stumble home. So goes the Cambodian dichotomy. It all ended with Chris having a very, very rough night that turned into an even rougher morning and bus-ride.
We left early for Thailand. The bus was a total nightmare situation (nearly double the amount of time it was supposed to be and so inefficient and hot), so by the time we arrived in Bangkok late at night we didn't have the willpower to fight the taxi driver blatantly ripping us off. We met up with George (who'd made the smart decision to fly to Thailand), promptly checked out of our initial hotel after a huge fight, and checked into the Mandarin Oriental courtesy of Papa Biggers. Nicest hotel I've ever been in, and of course, my dumbass friends had to mess it up. After a long, LONG night of partying in the red light district with eight boys (most of whom I met that night, they were friends of the fam's from back in England), we brought the party up to our suite where we watched the sunrise, drank more beer, ate more food (and soap…don't ask), and eventually a few fine folks might have even thrown a beer bottle or two off the roof toward the French Embassy. At least, this is what I was told the next day because I was so gone that I don't remember any of it! For legal reasons and my personal safety I won't go into detail about what happened next, but moral of the story is don't ever let Chris Jenkins on a balcony or near a French Embassy ;). Let this be my warning to all in regards to Bangkok: beware the ladyboys. THEY'RE EVERYWHERE.
Then we hit up Phuket for a great beach day and a great clubbing night and got some tiger cuddles on the side. Casual stuff. There also was a giant bubble bath party which I chose to not get involved with.
Off we went to the Phi Phi islands, another highlight of my trip. There we got to meet Ellie, a friend of the boy's from back home, and stayed in this cute bungalows on the beach. George did a Muy Thai fight and kicked ass (but not without consequence since he broke his foot) and I got to hold a monkey while crying some more. Each night was a party on the beach, with loud music, fire dancing, and of course, more buckets of redbull vodkas. I have a very faint memory of being so drunk at 3am that I stood in a ring of fire and didn't even feel warm while everyone else freaked out. Sometime into our trip, I learned that our neighboring bungalow was inhabited by girls who came here months ago for a quick trip and got hooked on meth from the local Thai boys and had been here ever since…but that's neither here nor there, I suppose.
Off we went to Koh Phangan for Full Moon Party! We had to take a ferry to get there, which was unpleasant to say the least. I didn't book any accomodation beforehand which was ridiculously dumb because full moon party meant everywhere was practically booked up. I ended up finding a super cute villa and we had a great time getting painted up and partying. That being said, this is the part in the trip when I first began to feel sick and never really recovered from, so I ended up calling it an early night despite the huge party because I just couldn't keep up.  Everyone ended caming back to watch the World Cup game in my cushy villa with AC and a TV (so luxurious!) anyway, so all was good. Would I recommend going there just for Full Moon Party? Probably not because I hate crowds and it was PACKED…but I am going to go back for half moon party!
I had to leave for Singapore, Chris and Andrew had to go back home for graduation, and George was headed to Bali for a bit. Saying goodbye to them was so hard that it's almost funny, but we had become a real family and it was sad to part ways. We dragged it out as long as we could by meeting up in the airport for our separate flights, but eventually we separated and I went on my way. In Singapore, I stayed at Mandalay Bay, the iconic hotel with the super high pool overlooking the business district. I won't lie, even though I missed everyone, a real bed all to myself plus a bathroom with some privacy was sooo nice. George came into town and we scoped out the pool, explored all over the city, ate an amazing traditional Indian meal, and came back to the pool at night. If you haven't been to Singapore, go now! It is, for lack of a better word, amazing… Clean, safe (albeit a little intimidating with the strictness of their laws), and very Westernized. And don't kid yourself, I did some serious retail damage while there…actually, George did too now that I think about it! I was just so happy to see a real mall with real stores where I could buy some new clothes and makeup. I'm not even sure how I managed to get everything in my bag on the way home, but I managed! George required a new pair of shoes given that the knockoff pair he'd bought in a market in Vietnam had started stinking so badly that we had to keep them wrapped in a plastic bag at all times.
So that is the trip as best as I can remember it without boring you all to tears or sharing the many inappropriate details. It was a trip of a lifetime with the people of a lifetime. If you can go on a trip by yourself and without a plan or itinerary, do it. Do it now. It will give you a fresh perspective on the world and a new lease on life; there is nothing better than waking up in the morning thinking "what do I want to do today?" with the world as your oyster, and meeting the most fantastic people along the way. Based off what I wrote in this post beforehand, I have to say my trip was a definite success.