Given the fact that I'm Jewish and my family is from New York, it's a bit shameful that I've only been there a handful of times, the last of which was when I was 16 years old. Going back this time around at 23 was very different – I was more aware of how cool it was to be in NY, but more importantly I was able to drink and stay out late to meander around. It was, of course, exactly how I remembered, but better. I'll attempt to give you a rundown of everything that went down during my long weekend in such a glorious city.
One of my biggest pet peeves is overpacking or when people show up with unnecessarily huge luggage, so I spent forever packing for this trip so that I could pare down my clothes to a select few while staying trendy and varied. This was made more difficult by our plans for the trip: we planned on being casual and wandering around during the days, but getting pretty dressy at night for broadway shows and some fantastic dinners. The two stars of the show were these gold birkenstock style sandals and my favorite pair of pants from J.Crew.
I wore them almost every day, with a different shirt to change up the vibe. First, there was my flight outfit. A good traveling outfit for me must be comfortable, breathable (I HATE getting sweaty on flights), and a dark color to avoid stains because I am the messiest/clumsiest eater on the planet. So, I paired my birks and black pants with one of my favorite graphic tanks and a bandeau for a bit of an edgier vibe.
Day 1 of exploring New York involved walking lots of walking around the city and checking out the Met. I decided on a pair of lightweight pants from the BCBG outlet in North GA and a crop top from Dillards. I HIGHLY recommend going to the Met – it's such a great museum with so much to see. We were there a few hours, but we could have spent way longer exploring all the art and sculptures. The best – or at least most interesting – part about the museum is that you only pay a recommended price. So when you purchase tickets, they'll say something like "okay, the recommended price is $150 for six people." And you can choose to pay $0 if you'd like. They do this so people who can't afford museums are able to come anyway. So, if you're ever there, please do pay the full price if you can to counterbalance the number of folks who aren't able to pay at all. Oh, and don't steal stickers off the collection signs at the end to sneak your way in, like we saw people doing…that's just rude!
Later that night, we headed to the infamous Jean Georges. It was my first three-star Michelin restaurant, and boy did it live up to the hype. This was our dressiest night, so I wore my new favorite romper – an orange, angular piece from Topshop that can be dressed up or down based on your shoes and accessories. Since I wanted to dress up, I paired it with my favorite red lip stain and go-to Valentino kitten heels. (Seriously you guys, these shoes were SO expensive, but I wear them at least once a week, if not more, and they look great with everything and feel amazing on my feet. I can't recommend them enough.)
It's a good thing my romper was a bit loose, because we decided to do the tasting menu at Jean Georges which meant seven full rounds (in addition to the bread and champagne I'd already horsed down) PLUS an extra complimentary round that the chef threw in at the end. Guys. I don't even have words to describe the food. So rich, decadent, and complex, the meal was as amazing as it is indescribable. Despite trying my hardest, I only managed to photograph a few of the rounds, as I was too greedy to wait for pictures for all of them. Here's a word of warning about tasting menus: you're going to be so damn full from the alcohol and itty bitty courses that you feel you might explode and need a stretcher to be wheeled out of dinner. Carry on anyway.
Day 2 started off with an incredible breakfast at Balthazar, an antique French restaurant off of Broadway. Again I wore my J.Crew Martie pants, but this time with a striped cropped top, a pair of black gladiator sandals, and a fedora. I know fedoras get shit on a lot, but I love mine and it saves me all the time when I'm running late and don't want to do my hair. Anywho… Balthazar was packed and buzzing, and despite knocking over a full glass of champagne onto my dad, it was a great meal. After, I dragged my sister-in-law and stepmom into Aritzia, one of my favorite stores that I often shop online because there isn't one in Georgia. As luck would have it, there was a sale going on, and naturally we took advantage of it. I mean, would it be a trip to NY without shopping?! No. Absolutely not. After perusing many stores, including an interesting one called Evolution that was filled with frozen and stuffed animals and other weird creepy things, we hit Laduree for our dose of macaroons. Then we caved amongst the heat and retreated into a tapas bar for sangria and lots of yummy food, including my new favorite snack of blistered shishito peppers!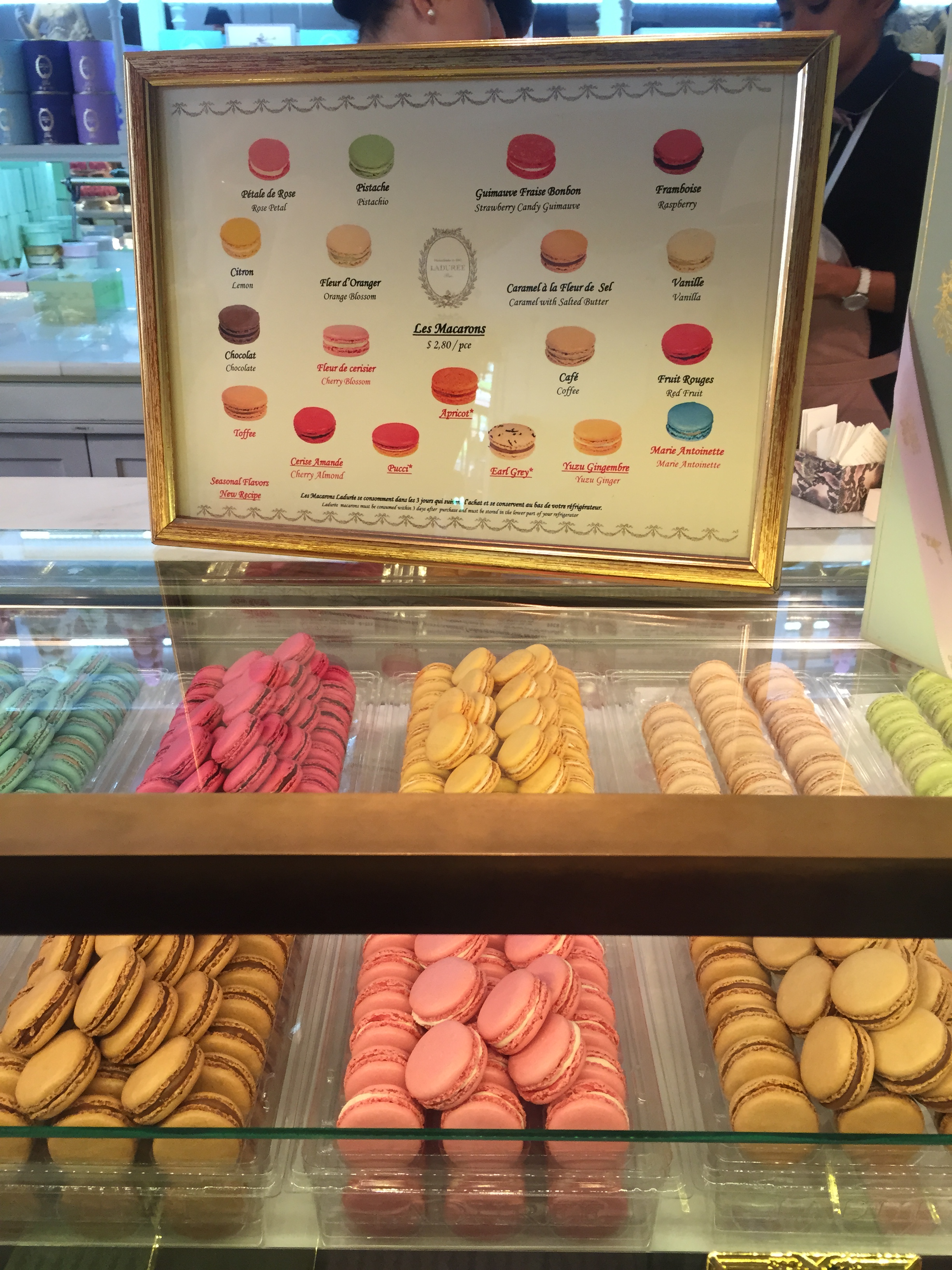 That night, we went to see Book of Mormon on broadway. We all thought it was hilarious, although we didn't expect anything less from the brains behind South Park! If you enjoy plays and have good sense of humor, check it out. If you're easily offended, probably skip this one. I wore the same white crop top from the day at the Met, with a black pleather skort that I failed to take a picture of. My b. Once the show let out, everyone left to head home and get some sleep except for me and Tucker. We wanted to go explore Times Square and find a place to have a few drinks.
I tried a Mexican Mule that night, accidentally. Really, I wanted a Moscow Mule, and that's what I asked for. But after taking a sip and realizing, oh shit, this is tequila, I looked at the cocktail menu and saw that they serve a Mexican Mule at this particular bar. It was interesting…definitely not bad, but not what I was in the mood for and tequila is something that I have to be in the mood for to enjoy. I drank it down and finished off the night with a few ciders while Tucker played a class act and drank straight whiskey. When we left, we were both pretty tipsy and seriously considered getting a street cart donor kebab, but we resisted.
Our last day culminated with probably one of the best brunches I've ever eaten. And I've brunched a lot, you guys. We met at East Pole in the upper east side and promptly got our day started with blood orange mimosas and peach bellinis. I ordered a maine lobster sandwich (drool) with a green juice of apple, kale, spinach, cucumber, and ginger. It was amazing. For our last day, I busted out a pair of overalls that I'd bought the day before at Aritzia. They are SO cute and comfortable, and the fact that they actually fit was so surprising since rompers and overalls rarely do. Paired with my trusty fedora and sandals, I felt pretty damn slick. So slick, that I decided to pull a stoop kid.
Later that day we went to the new Forever Observatory at One World Trade Center (or Freedom Tower, as many call it.) After waiting in line for 15 minutes in sun – honestly, they need to cover that so people as pale as me don't get sunburned…I did – we were let inside for security. We all thought we'd just ride up in an elevator, look out over the city, and be done with it, but it was way better than that. First, you walk through the stone slab that all of NY sits on, including the 45k tons of steel of the tower above you. Facts and stories play out on the walls aorund you, including blurbs from the construction teams that built the tower, which I thought was really cool. Then an elevator takes you up to the 102nd floor. It isn't a regular elevator though. It's so fast that it takes about 40 seconds to go up all the floors, and because it's an internal elevator, there's a simulator playing out on the walls around you. While it was really cool, it kind of made me woozy and nauseous, so keep in mind that you may want to close your eyes or not look at all during the elevator ride! Once upstairs, the view really was spectacular. It's a 360, completely unblocked view of all of NY, including the 9/11 memorial and Statue of Liberty.
I thought the entire thing was really well done. It wasn't cheesy and super tourist-y, but very tasteful and appropriate. I also appreciated that it focused on the incredibleness of the new tower and celebrated how far we've come, rather than being solemn and sad. In my opinion, it's a great way to contrast the somberness of the memorial, so I recommend doing both!
And just like that, it was time to head back to Atlanta. Tucker and I really didn't want to leave, especially because it felt like we had next-to-no time there! Isn't it funny how some trips drag on and others go so quickly? This one definitely flew by. We headed to the airport with our bags, early just in case something went wrong, only to sit on the tarmac for two hours behind thirty planes and land super late.
Oh well. It was worth it.