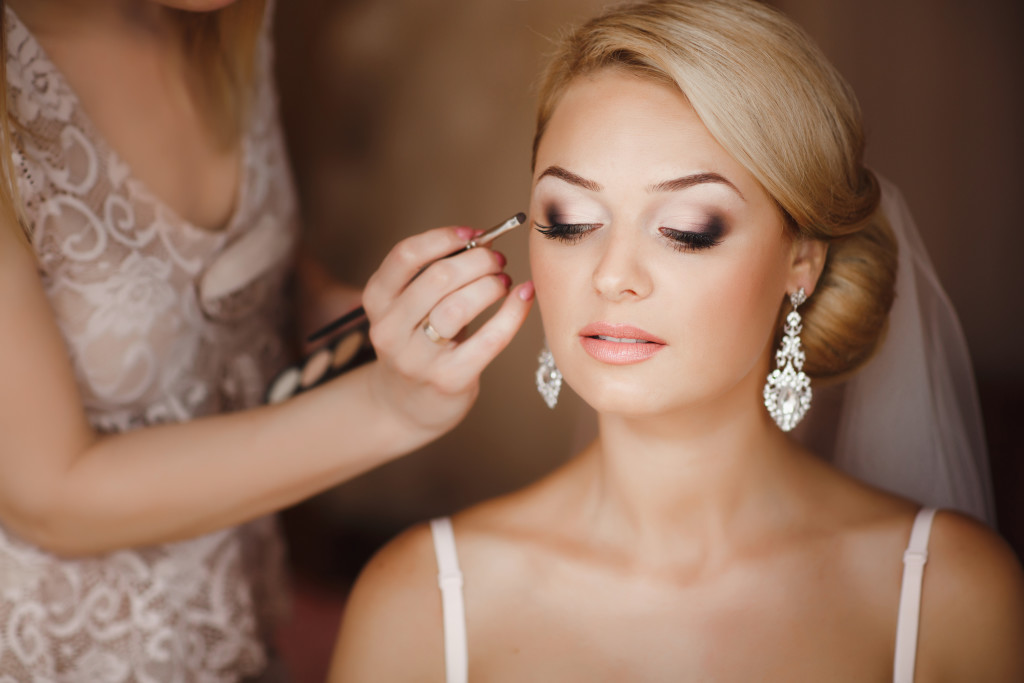 Finding the right makeup artist for your wedding can seem tricky – intimidating, even – but it doesn't need to be. As a full-time makeup artist, I have a unique perspective that I want to share with you! Below are a few of my tips to help you figure out the best way to approach makeup artists, what information you need to provide them with, and what would be considered "normal" and not normal throughout the booking process. Enjoy!
Browse google, professional databases (for example, in Atlanta I am a member of makeupartistsofatlanta.com), and ask your married friends for recommendations to find a selection of makeup artists to consider.
Reach out to wedding potential makeup artists no later than 1 month in advance. We book up quickly and like to plan in advance, plus we are less likely to want to work with a bride that waits until the last minute because foreshadowing, y'know? (Side note: I personally don't accept bookings more than six months out just because the nature of my business means I travel a lot and its hard to know what type of position I'll be in eight or nine months from now, so 1-6 months in advance is the sweet spot.)
Give us the four most important details upfront: date, time, location, and number of people needing makeup. Without those details, it's damn near impossible for me to give you an accurate quote, and it's frustrating for both of us when makeup ends up way more expensive or time-consuming than originally agreed upon.
If you are particularly picky or just nervous about finding the right makeup artist for your wedding, it is absolutely okay to trial multiple makeup artists! Just tell me you want to schedule a pre-wedding trial and make your decision afterward, but still give me all the details I mentioned above so I can confirm my availability, otherwise it's not even worth it to trial. It's also not uncommon to do more than one trial.
Know what you want, and more importantly, have visual representations. Contouring and smokey eyes to you are probably different from what I envision as a bridal makeup artist – just like telling your stylist "just a trim" usually means you walk out the door with way shorter hair than you imagined – so bring photos!
Ask to see photos of my work. This is a no-brainer, but any makeup artist should be able to provide you with examples of their work, specifically bridal photos.
If you have a smaller budget and my quote is too high, tell me. Sometimes, depending on demand, I am willing to take 10-20% off of my quote.
Plan for bridal makeup to take about an hour, and for all other makeup (bridesmaids, mother of the bride, etc.) to take anywhere from 30-40 minutes. My biggest pet peeve is when I tell a bride these times upfront and then she tries to make me squish five full makeups into two hours…it's not gonna happen, and if it does happen, it's going to be stressful and not fun at all.
Yes, I do men's makeup. If the groom or another male wants undetectable natural makeup, I will do light airbrushing to perfect the skin. All you have to do is ask, and yes, it's way more common than you think!
This last tip is for destination weddings only: my advice is to budget from the get-go to use a makeup artist from your area that you can trial with and then fly out to your destination. You will be expected to cover travel and accommodation (but you don't have to keep us in a really nice ritzy hotel with everyone else!) So many stories that I heard regarding destination weddings and using local makeup artists end up disastrous — how do you know if you like their work on your face? It's a gamble on the big-day!
I hope this helped you beautiful brides figure out how to book a makeup artist! If you're in the Atlanta area, feel free to reach out to me at www.biggersbeauty.com. As always, please let me know if you have any questions!
xx