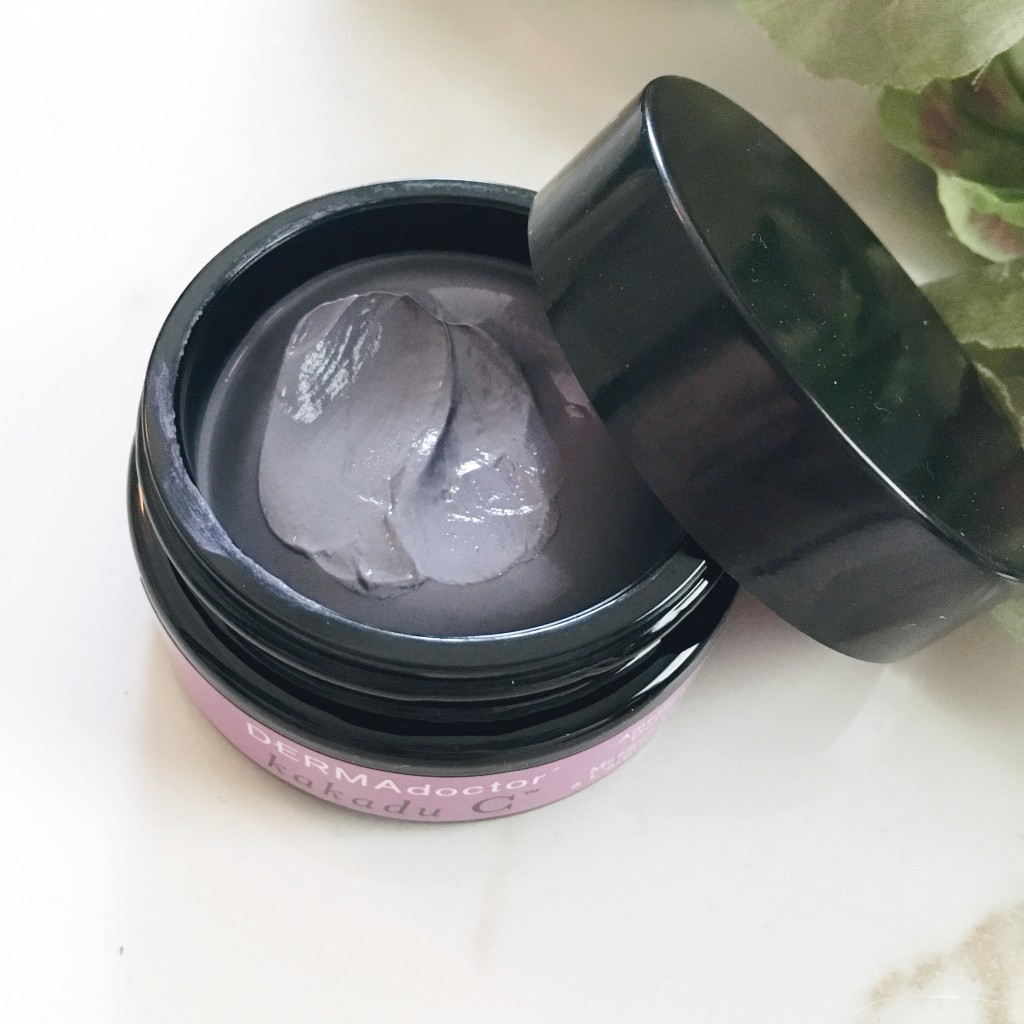 As you guys probably know, I recently struck gold with a skincare line called DERMAdoctor. After more research into the brand and the products on the market, I decided to try out their Kakadu C Amethyst Clay mask because of its sterling reviews on, well, pretty much everywhere! Ulta.com, Sephora.com, and the DERMAdoctor website itself all give this product nearly five stars.
After two weeks of using, I have to agree with all the hype: the Kakadu C Amethyst Clay Mask is amazeballz.
I put it on at night while I was wrapping up a blog post before bed, as I do with all my face masks. Per the directions, I smoothed a generous-but-still-thin layer over my skin, mainly concentrating on my chin and t-zone (where I tend to breakout.) It doesn't sting or tingle in any way, which is a good sign for my sensitive skin.
The Kakudu C Mask is a semi-thick consistency and completely opaque, which I really like because it is easier to tell if I missed any spots! It's got a neutral, earthy scent to it that is neither unpleasant or great smelling.
After 15-20 minutes, I rinse it off with warm water. Unlike other clay masks which stick to the skin to the point that I have to practically scrape them off, the Kakadu C Amethyst Clay mask comes off after just a few passes with water. I have dry skin so I follow it up with a gentle moisturizer and knock out for the night.
Here's the kicker: every single time I wake up the next morning, my skin is ridiculously soft and smooth. The first time I used Kakadu C Amethyst Clay Mask, I had some leftover scarring from all breakouts and a number of raised bumps on the skin that weren't full on zits but still raised enough to bother me. When I woke up, my skin was completely flat and uniform and felt so, SO good.
If you're looking for a new detox/resurfacing/clearing mask to add to your routine, I highly recommend the Kakadu C Amethyst Clay Detox Mask by DERMAdoctor. It really works to make my skin look brighter and feel smoother, without the harsh irritating properties of other comparable masks.
Have you tried it? I'd love to hear your opinion!
xx